PropTech (Property Technology) refers to a small part of digital transformation in Real Estate industry, using technology innovations to tackle challenges in the Property sector (Dearsley, 2017). PropTech comprises of companies/startups offering IT solutions or innovative business model to make Real Estate transactions more fruitful and efficient (Lecamus, 2017).
For the new business model, PropTech organizations target the traditional inefficiency and obsolete procedures of the Real Estate area. For innovative products, PropTech organizations develop innovative hardware, software, as well as other core technologies in building fittings, fixtures, materials, and systems. (Maarbani, 2017)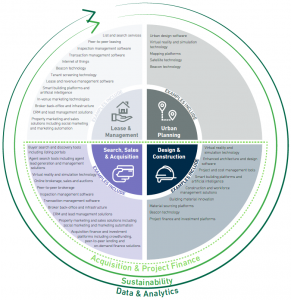 PropTech products fall into 4 main categories:
Urban Planning: Companies in this vertical focus on various aspects of urban, rural and community planning, including improving processes related to the land release, planning approvals, protection, and use of the environment, and the enhanced design of the urban environment.
Example:
Satellite technology
Mapping platforms
Beacon technology
Design & Construction: Including tools and processes used for the design, development, and construction of residential, commercial and industrial Real Estate projects.
Example:
Project and cost management tools
Enhanced architecture and design software
Smart building platforms and artificial intelligence
Search, Sales & Acquisition: Including tools, processes and business models for searching, marketing and acquiring new and existing residential, commercial and industrial Real Estate.
Example:
CRM and lead management solutions
Online brokerage, sales, and auctions
Buyer search and discovery tools including listing portals
Leasing & Management: Including tools, processes and business models used for the leasing and management of residential, commercial or industrial Real Estate, from single properties through to solutions designed for complex property portfolios.
Example:
Lease and revenue management software
Transaction management software
Above all, Data & Analytics companies identify, collate and analyze relevant big data to enhance operational efficiency, inform decision making and improve the experience of participants (Maarbani, 2017).
According to a survey of KPMG in 2017, the most influential PropTech innovations over the next 5 years are Big Data Analytics, IoT and AI. However, those technologies are immature and will have more substantial impacts over longer 5, 10 or 15-year period. Though now this is an early stage, companies should consider a gradual transformation plan to avoid being left behind with obsolete systems. This is a great opportunity for PropTech startups and innovative ideas to be invested and implemented before the saturation.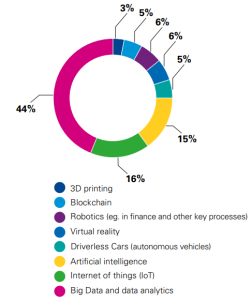 (KPMG, 2017)
Over the last 5 years, TwentyCi Asia has successfully developed PropTech products for a number of clients with high-standard delivery quality and high customer satisfaction.
CoVESTA is a fractional property investment platform that provides the opportunity to invest in any available property, anywhere in Australia. Their mission is to help ordinary Australians to get into property investment and build their future wealth.
TwentyEA comprises of experts in the UK home mover market with a team made up of property industry veterans, data scientists and start up technologists. They are well known for quarterly Property & Home mover Report which produces a comprehensive review of the UK property market.
View My Chain sheds new light on the complex home-buying process, allowing users to track every step from Sold Subject to Contract (SSTC) to exchange. Clear, honest, up-to-the-minute information on what's happening in the chain empowers proactive agents to complete faster than ever before.
Romans is in top 5 largest property groups in the UK. With a full range of property services, Romans helps everyone interested in buying or selling, renting or letting, town planning or mortgage advice.
Comment down below if you have any question or contact us via email for free consultation. Don't forget to share & subscribe to our blog! See you in the next post!
                                                                                                                                                                                                                                                                                                                                         Olivia Dang                           
References
Dearsley, J., 2017. WHAT IS PROPTECH?. [Online]
Available at: http://www.jamesdearsley.co.uk/what-is-proptech/
[Accessed 24 10 2018].
KPMG, 2017. Proptech – Bridging the gap, UK: KPMG LLP.
Lecamus, V., 2017. PropTech: What is it and how to address the new wave of real estate startups?. [Online]
Available at: https://medium.com/@vincentlecamus/proptech-what-is-it-and-how-to-address-the-new-wave-of-real-estate-startups-ae9bb52fb128
[Accessed 24 10 2018].
Maarbani, S., 2017. Real Estate Technology – Threat or Opportunity?, s.l.: KPMG.
The Offshore Development Centre (ODC) is designed to act as an extension of the client organization, seamlessly offering the flexible capacity to meet variable demand. As the ODC model has matured throughout the industry, it's become clear that successful organizations not only need to deliver tailored solutions in a repeatable manner but also need to adapt to their clients' culture and philosophy and have a set of good practices to build on and continuously lead clients in areas of improvement.
ODCs should create a virtuous circle of delivery, improvement, mutual gain, and trust. Furthermore, there is an innate belief and expectation that members of an ODC will be thinking and operating as if they were an official part of the client's organization. This document highlights the characteristics of a "GOOD" ODC and also provides some guidelines and behaviors for how to achieve these characteristics.
This document covers the key activities and behaviors associated with operating as an ODC: acting and thinking as part of the client's organization, driving continuous improvement and refinement of process and tasks to align with TwentyCi business strategies of doing more with less.  At the same time, our delivery methodology needs to fit the client's culture, be applied consistently and have the same rigor and management of scope, timeliness, and quality as our project-based deliveries. This document is not a substitute for the quality management practices and templates also avoid going into details on any specific process.  The purpose is to complement the existing processes and practices, highlighting key steps and good behaviors.
Target / What good looks like

Guidelines / Behaviours

Agreed working processes are applied consistently throughout the ODC.
The ODC maintains the correct balance of resource seniority. Succession plans are proactively maintained.
Comprehensive reporting and KPIs are agreed and tracked to provide an objective measure of performance (whether requested by the client or not).
There are clear roles and responsibilities identified with the client and among project team
The correct balance of time, quality and cost are maintained.
Productivity is managed.
A log of discrete improvements to ODC working practices is established and maintained.

Think and act as the client, put yourself in their shoes.
Avoid inconsistency, as it reduces the client's confidence in company capability.
Awareness of risks, issues, and KPIs to provide a client-orientated context for decisions.  Consider the client's point of view.
Seek to improve, offer ideas and suggestions. Clients are welcome for improvable positive ideas.
ODC members are trusted to communicate and work effectively, directly with key customer stakeholders.
The ODCs are enthusiastic and focused on delivery, and consider the long-term maintainability and performance of solutions they construct.
The whole ODC operates in a professional manner, aware of clients' perception at all times, especially where clients are physically present.
If in doubt, the ODC team take ownership for the resolution of issues.
Proactively raise risks and mitigation recommendations to the client.
Comment down below if you have any question or contact us via email for free consultation. Don't forget to share & subscribe to our blog! See you in the next post!
                                                                                                                                                                                                                                                                        Hung Le