A freelancer or freelance worker is a term commonly used for a person who is self-employed and is not necessarily committed to a particular employer for a long-term. However, full-time employees also can do freelance jobs out of working hours.
Right now, I am a full-time developer at TwentyCi Vietnam with good monthly salary and benefits package. I'm still working for other companies as a freelancer out of office hours to get extra income. It's really a good choice if you apply CV to TwentyCI Asia where you can develop your career and skills quickly as well as having an attractive salary package.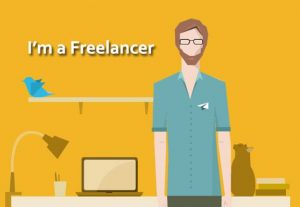 It's not easy to start becoming a freelancer
In the IT field, most developers who are good at English and independent can work as freelancers. They may be fond of freedom, be a little adventurous and unconstraint. Actually, it was for money that I became a freelancer. Two years ago, I had planned to move to HCM City for living and working. As I didn't want to make any negative impact to a big project of the company I worked at that time, I resigned and applied for a remote job at a foreign company which has a subsidiary in Vietnam.
Starting to become a freelancer is probably a challenge to anyone who is a developer. Why? One of the biggest misconceptions about freelancing is that you sit at home and work comes to you. When the reality is that you have to fight for it, and fight hard.
When you bid on a project at website freelancer.com, beside than having a nice profile and a proposal letter, an employer will look at three important criteria to evaluate a candidate:
Rating and Review/Feedback
Earnings
Completion Rate
Both of the above criteria are important. At my first thought, Rating and Review/Feedback is the most important criteria as long as you got 5 stars. But after doing a fake project (created and hired by yourself) then I found that Earnings and Completion are the most important ones. Even you got 3 stars or 5 star but low earnings then you can't be on the top of the candidate list for a project. And if no project is taken mean that you have no earnings.
The patient one is the winner
At first, during a long time, I constantly bid, constantly checked and looked for suitable projects, but it seems like I wasn't so lucky. Until after 5 days of searching, bidding, again and again, I finally got a small project: edit HTML / CSS for a forum running on VBB platform. My first feeling is happy, cheery. But then I began to feel like "I'm selling my labor cheaply". And after all, I finished the project in 6 hours. Even when the project closed, I also offered after-sales service for the customer to support new banner during the next one month. But on the following days, I did not get any other project, so I had changed the strategy:
Bid on the odd jobs
Bid on projects with a small budget
Go through carefully the job description, and mention it in the proposal letter
Undersell the service: offer a lower price
Response to the customer quickly
Do after sales support
Do extra work which is excluded in the job description and agreement free of charge
Applying the above strategy, I had gained 3 more projects and supported customers with my best. All of them were satisfied.
What is it like to be a freelancer?
Being a freelancer means you can say 'no' to jobs you don't want. You might also get to work at home for specific projects. As long as your work is delivered on time, most clients won't mind how and when you do it. Therefore, freelancing is a good option for people who don't want to work in office hours. And to be a freelancer, you need sales skills, because you are going to sell the service. Communication skills are required since you have to communicate directly with the customer. Also, customer service skill is a must-have because if the client's not happy, they will not pay. You need time management skills as well, because the more money you want to earn, the more work you have to do. Do not be afraid of work, because if afraid of any work, there will be nothing to do.
And as a freelancer, you will need to face up to and pass through some problem such as: getting your first few jobs can be hard as there are a lot of freelancers out there. Just being good at what you do isn't enough – you need to have a network, marketing yourself and make contacts because no one will hire you if they don't know you're there! The workload can be unpredictable – sometimes you might be working all night to meet three deadlines in one week, while even the most successful freelancers have months where they get no work at all.
Should I try to work as a freelancer?
My answer is Yes. As a freelancer, you can get flexible working hours, excellent opportunity for improvement, learning through work and get higher income. Perhaps one of the biggest advantages of freelance jobs is that you can take a vacation whenever you want and of course if you want you can work on holidays while this is not the case with the office work.
Do you know even if you're not a freelancer, you still can get all the benefits mentioned above if you work at TwentyCi Asia? Let's take it as your first option for a new job application.
     Quan Phan